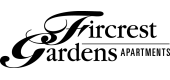 What People Are Saying...
Your Review
Submit a Review

Resident Reviews
|Recommended: Yes
Great place to be — I feel incredibly lucky to live here. This apartment complex is pretty quiet and the grounds are well-maintained. My apartment unit is in good condition and has no mold, water damage, or any other serious issues. The staff members are professional and responsive. When I reported a leak in my kitchen, our resident maintenance staff responded that same day and the issue got fixed within a couple days. Many friends have come to visit and were impressed by how nice this apartment community is. Overall, I highly recommend Fircrest Gardens.
Thank you Elizabeth for the wonderful review. I'm glad its so very obvious to you and your guests that we take great pride in keeping Fircrest Gardens looking her best inside and out. We are thankful to have such great residents as yourself and hope you will continue to make Fircrest Gardens your home for years to come.
|Recommended: Yes
Wonderful Location and Amenities — It is a great apartment complex. Fairly new and clean, you feel safe in the area. You are close to the college, shopping centers, and the highway. Take advantage of the sweet amenities they offer
Thank you so much for your honest review. We take great pride in keeping your home looking its best inside and outside.
|Recommended: Yes
It amazing — The staff is great. The facilities are really nice and always clean.
Thanks so much for the great review. We do take pride in keeping everything clean and tidy and love how our residents do the same.
|Recommended: YesNice — Quiet and Secure
|Recommended: YesJust right — The property is well maintained and is secured by gates that close at night. Parking can fill up by evening but I have never had to park away from the apartment building or curbside. The managers are friendly and were very accommodating during the application process. The apartments are cozy and the neighbors are polite. The location is great There are restaurants, shopping centers, box stores and the mall all within 5mins. The property is next to a park and ride with bus stops and not far from highway 16 on ramps. The Scott Pierson walking biking trail also connects to the park and ride.
|Recommended: Yes
Property is nice, the landscaping looks great — I rarely hear my neighbors which is good because I work nights. The office staff is wonderful.
Thanks Cindy for taking the time out to put in a review. And we think your pretty wonderful yourself. Glad to hear your happy living here at Fircrest Gardens. And your right. It is very quiet.
|Recommended: YesNice, clean,safe and quiet — Safe and quiet apartment
|Recommended: YesDecent — It's a quiet place despite being close to Chaney stadium. Very convenient spot to grocery stores and entertainment. Wish all the apartments could be updated, and more parking but otherwise great place to live.
|Recommended: Yes
Beautiful property — I would definitely recommend Fircrest gardens to people it is a great place to live. The parking is a tough but every apartment complex has parking troubles. Staff is friendly and very helpful with our requests. Overall they are very understanding when you have an issue which I haven't had any issues .
Thank you so much. The staff and owners take great pride in keeping Fircrest Gardens looking her best. Were glad you enjoy living here.
|Recommended: Yes
The manager takes time to know residents — It is small enough to feel homey but has all the convivences. It has the best pool in the area.
Ahh thanks Melissa for you kind review. Were one big family here at Fircrest Gardens. And we especially love our long term, great residents like yourself who continue to make Fircrest Gardens their home.
|Recommended: YesLiving Here — It has been a great time living here. the parking is hit and miss at times but there could be worst things. We love the area and the easy access to places to eat, mall, downtown tacoma and the freeway. we even have a view of the stadium fireworks when in season and during the 4th.
|Recommended: YesAmazing — Patty and Jasmine are wonderful Both take care of problems in a timely fashion. Parking is pretty good. I never feel unsafe being around the complex at night
|Recommended: Yes
Safe, Easy, Quality — It is a great place to live because I feel safe walking to my apartment late at night if I have to park far away. The layout of my apartment is conducive to my lifestyle and though I can hear noises from my neighbors sometimes, it's not bad at all.
Thank you very much for the great review. We are very happy to hear you love your home and the property.
|Recommended: Yes
Good place — Good place
Yes. It is a good place. You and many other residents agree because hardly anyone is moving out anymore. That's why were always full. Residents love it here. Thanks very much for the review.